The more you buy, the higher the discount
PROMO CODE
2 kits (your choice):

-15%

disc15
3 kits (your choice):

-20%

disc20
4 kits (your choice):

-25%

disc25
Redeem your discount by typing the PROMO CODE once you check out.
Model: Near the Lake
Method: Diamond Painting
Type: Full Drill (covered entirely with diamonds)
Size: From 20x25cm to 80x100cm
Diamond shape: Square or Round
Support: Self-flattening numbered premium canvas
Packaging: Securely wrapped Packaging
This Diamond Painting kit contains all the necessary materials to create your artwork:
1 Premium adhesive canvas, numbered according to the model and diamond shape selected
Color coded diamonds (safe and eco-friendly rhinestones). We add 30% more diamonds than necessary to make sure you really have enough to complete your masterpiece
1 Diamond Applicator + 2 additional applicator heads, which allow you to grab 6 and 9 diamonds at the same time
Tweezers
1 Tray with funnel
1 Wax Pad
Note: If you want to create a very high quality masterpiece, we suggest you to select a size from 40x40cm or 40x50cm in order to avoid any pixelated effect. Same as in photography, one diamond can be considered as a Pixel. The bigger the size (or resolution) of the masterpiece, the better the result.
What is Diamond Painting?

This creative hobby that initially started in Russia and Asia has become very popular in USA and Europe in the past few years.
It can be considered a combination of Paint by numbers and Cross-Stitch. Diamond Painting lets you create dazzling masterpiece using rhinestones called "diamonds". Perfect to let your mind wander and escape the stress of everyday life.
1) Choose from our wide selection of diamond painting kits, we have the largest collection available online and you can choose various sizes.
2) You will receive a ready-to-use kit which contains the numbered canvas, diamond bags according to your design, and all the accessories you need to complete your artwork.
3) Place the diamonds according to the symbols indicated on the canvas using the applicator. You can refer to the side legend, it's very practical.
4) Once your Diamond Painting is finished, lightly press the diamonds with your hand or a book to make sure they will stay on the canvas.

5) DONE, share it with your friends and family and hang it up on the wall!
Diamond painting is a great hobby that is fun, easy to start and will let you create Art that you'll be very proud of.
At UK Figured'Art, customer satisfaction is our top priority and this means 100% secure payment methods.
We accept the following payment methods:
- Credit/Debit card
- Paypal
Our website has an SSL encryption system to protect your personal data and the means of payment used. We use the secure payment system Stripe.
All our orders are validated and shipped within 48 hours of your purchase.
Items labelled with "✅ UK Stock: Delivery in 48hrs" ship from our warehouse in Derbyshire, England and you will receive them in 48hrs.
Items labelled with "☑️ Shipped from our workshop" ship directly from our workshop and the delivery usually takes 1 to 3 weeks.
Depending on the products ordered your order may sometimes arrive in several packages and we will then send you several tracking numbers.
Once shipped, we will email you a carrier tracking link allowing you to track the progress of your delivery until you receive your order.
Trusted by more than 100,000 happy customers in the UK and worldwide!
Discover our Figured'Art Diamond painting kits for adults!
1. Peel back the canvas cover
2. Choose a symbol on the canvas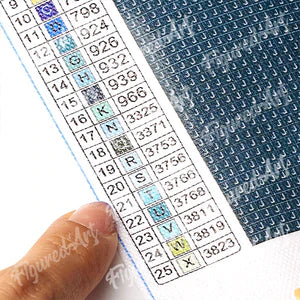 3. Find the symbol and shade number on the color list
4. Pick the corresponding diamond bag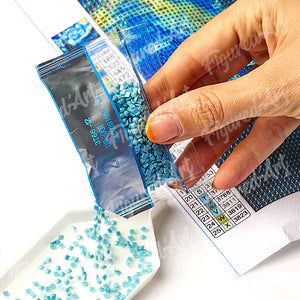 5. Pour the diamonds into the tray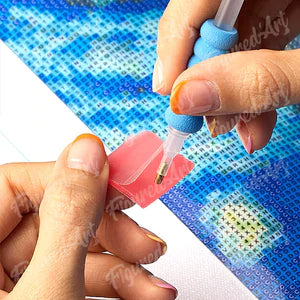 6. Press the head of the diamond stylus firmly into the wax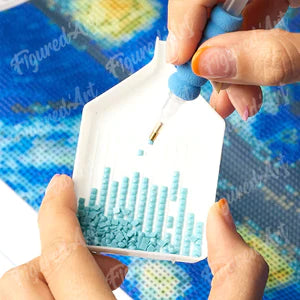 8. Stick the diamonds down onto the symbol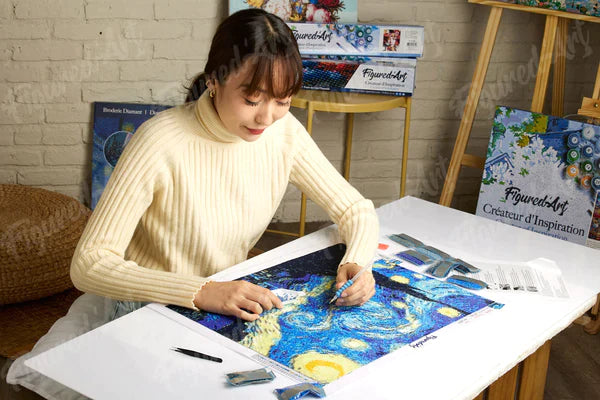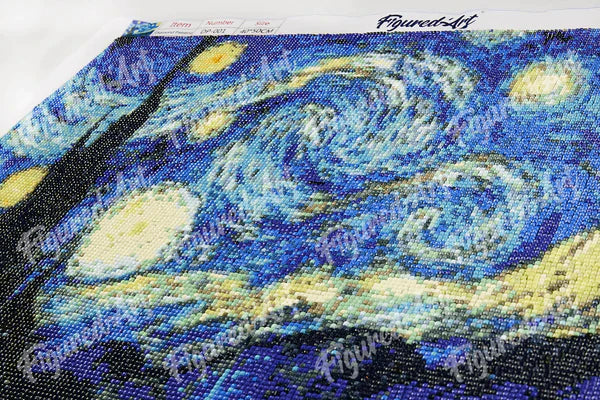 A beautiful shimmery effect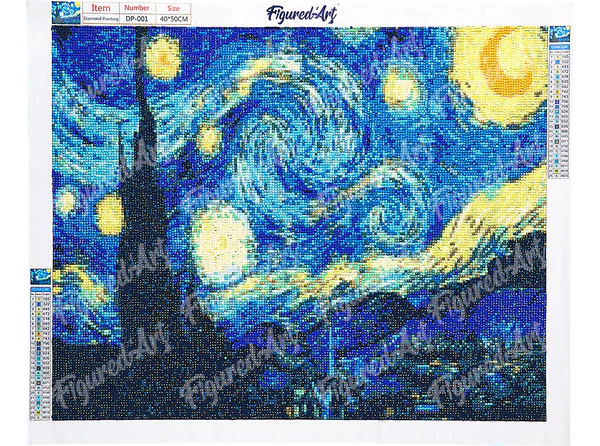 A spectacular finished result
A complete diamond painting kit with rolled canvas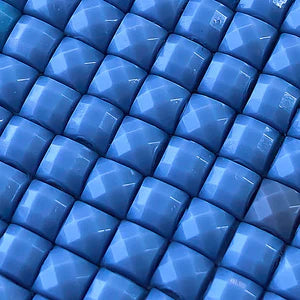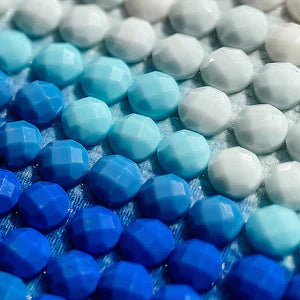 WHY SHOULD YOU CHOOSE FIGURED'ART BRAND?
Company

Other websites

Figured'Art is the most trusted brand for Diamond Painting with high-quality kits
UK company with local warehouse in Derbyshire, England
✅ Delivery in 48hrs on hundreds of models
Over 2,000 verified customer reviews ⭐⭐⭐⭐⭐
Exclusive designs
Branded Packaging in 40x50cm
Canvas

Other websites

High quality materials for diamond painting
100% without fold
Premium Quality
Sticky canvas

Perfect

Diamonds don't stick properly

Printing of the symbols

Perfect

Difficult to read
Diamonds

Other websites

Diamonds with perfect shape and shiny colours
Quality control
Shimmery effect
Quantity of diamonds

We add 30% more diamonds

No extra diamonds

Shape of the diamonds

Identical

Regular size difference