Our Punch Needle Kits for Beginners and DIY Lovers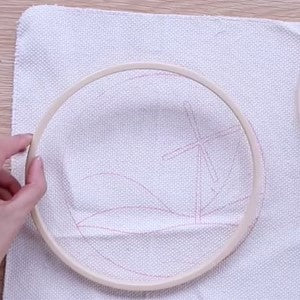 Stretch your canvas on the circular frame
Step 2: Thread your Punch Needle
Create your artwork using the magic needle
Admire your beautiful punch needle masterpiece. Put it on the wall or offer it as a gift to your loved ones!
VIDEO OF PRESENTATION PUNCH NEEDLE
Laura with her first Punch Needle kit
⭐⭐⭐⭐⭐ All the tools and accessories are included in each kit, it was just perfect and very relaxing.
Emily's creation in Punch Needle
⭐⭐⭐⭐⭐ Very beautiful and easy to make. This kind of DIY project is perfect for beginners and pretty quick to complete!
⭐⭐⭐⭐⭐ High quality kit, it was fun to make! I love cats so this punch needle was just perfect for me. I am very satisfied with the result!
Anita with her 7th Punch Needle
⭐⭐⭐⭐⭐ I discovered punch needle few months ago and I have already made seven! I have become addicted to it, it keeps my mind focused and relaxed. I recommend Figured'Art brand, I love the quality of their kits and the variety of their designs.
Get your Punch Needle kit
Punch needle: All about this new trend
Punch needle is the new relief embroidery technique that is becoming increasingly popular with craft enthusiasts. As well as being an addictive and fun activity, you can easily create beautiful artworks on canvas. Here we explain the basic principles of this method and the tools you will need.
What is punch needle embroidery?
Punch needle is a unique embroidery method that involves stitching the fabric with a hollow punch needle, also known as a "magic needle", so that when you remove the needle it leaves a loop of wool thread on the other side. By repeating this movement, you can create patterns, images or inscriptions on the fabric. You can make long loops (for a fluffy look) or smooth, flat stitches (perfect for small figures or fine details) and achieve a variety of unexpected and fun results by combining different types of wool yarns (colours, materials, thickness). In other words, you can use punching to make countless creative experiences.
Everything you need for your next punch needle project
Punch needle requires specific materials to create embroidery in relief. For this purpose, Figured'art offers ready-to-use kits for beginners and enthusiasts, consisting of a 26cm x 26cm linen canvas printed with the design to be made, enough quality wool threads to embroider your design, a magic needle specially designed for Punch Needle, a 20cm diameter circular wooden frame, a needle threader and a tutorial to help you make your embroidery.
Why start punch needle embroidery?
Punch needle is a very easy to learn activity and ideal for beginners. In addition to these benefits, punch needle embroidery can be used in art therapy activities to develop self-confidence and promote rehabilitation. 
With a needle and quality woolen threads, relief embroidery allows for a large number of creative hobby projects and makes for great gift ideas!
Punch needle embroidery designs for every taste
At Figure d'Art we offer a varied selection of designs to suit you.
Whether you are a beginner or an expert, you will find something to suit your taste, from landscapes to animals to portraits. As with any activity, the punch needle technique requires some practice to get the best results. But once you have found the right movements and the right rhythm, you will quickly achieve the desired results with precision. 
Learn more about Punch Needle
To find out all about the punch needle and how to make your project happen, please read our blog post. Start now with Figured'Art!